Our Mission:
Christ's People Proclaiming Christ's Love!



Our Vision:
We are Christ's People.
We receive the gifts of God through regular church attendance, receiving the sacraments, studying and learning God's word.
We Proclaim Christ's Love.
We maintain faithfulness to scripture and our confessions. We support the work of the church through our gifts (stewardship) and our mission efforts (evangelism) both internally and externally.
We live Christ's Love.
We live and spread Christ's love through ministry efforts, service work, and fellowship events, among ourselves as well as in the community.
Why Christ Lutheran School?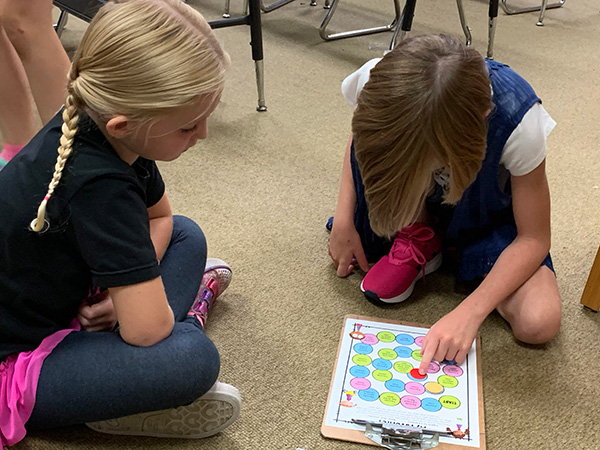 At Christ Lutheran School, our aim is two-fold: To prepare children for useful productive lives in God's Kingdom here on earth and for their lives with God in eternity. Why should you consider sending your child to Christ Lutheran School? If you choose Christ Lutheran School for your child's education, you will experience a school with:
Distinctively Christian Environment
This is one of Christ Lutheran School's primary characteristics. CLS offers a strong basic curriculum in a distinctively Christian environment, providing many opportunities for students to develop skills and excel in areas of special interest as well as interact with students from neighboring schools, both public and non-public. Christ Lutheran School provides a Christ-centered education.
Highly Experienced and Well Trained Faculty
The average years of experience on our faculty is over twenty-five years, with teaching experience ranging from four to forty years. The full-time faculty is composed of five men and five women; half of the faculty has musical training and ability. Eight of our teachers hold a Masters degree or above. CLS has a full-time, non-teaching principal, as well as several part-time teachers.
A Diverse and Active Community
CLS students and families, while predominantly from our supporting congregation, Christ Lutheran Church, also represent several other Christian congregations from our community. We have a talented, dedicated, and caring family of Christian adults and children. Our Parent-Teacher League is very active; their work and the volunteerism of our parents is instrumental in the successful program enjoyed at CLS.
A Licensed Preschool Program
The Christ Lutheran preschool program for 4 year-olds provides children with a developmentally appropriate Christian education that will prepare them for Kindergarten. The Preschool provides a safe, nurturing environment for students to develop intellectually, physically, socially, and spiritually.
Integrated Technology in the Classroom
At CLS, information technology is richly integrated into our curriculum through the use of interactive white boards, iPads and computers in each classroom. The CLS computer program offers training for all grades, including Kindergarten. Our students have the opportunity to apply technology to critical thinking, communication, data collection, analysis, problem solving and the arts.
Community Involvement as a Priority
For the past several years during National Lutheran Schools Week, our students have participated in service projects throughout our community. We also have regularly participated in work at the Soup Kitchen, and every month one of our classes accompanies one of our Pastors to lead worship at Jordan's Nursing Home.
​A Competitive Athletic Program
Our athletic program offers nearly 20 team sports for boys and girls in grades 5-8, with additional opportunities of an instructional nature for students in grades 3-4. Our students participate in an organized league with other Lutheran elementary schools, offering team sports in Soccer, Boys and Girls Basketball, Girls Volleyball, and Track & Field.
Additionally our students participate in many tournaments within our community and even out of state. Both our boys and girls basketball teams won the first ever State of Michigan Lutheran Basketball Association Tournament (in 2008). Our basketball teams have qualified to participate at a national level for several years.
Structured Art Education
Art education is another distinctive feature at CLS. CLS has a structured Art curriculum, providing students with an organized sequence of experiences that build upon one another beginning in Kindergarten and proceeding through the 8th grade.
A Comprehensive Music Program
The Music Department provides experience in Choral and Instrumental programs throughout the grades. Kindergarten children receive a well-rounded program of rhythm and singing. Children's choirs participate in chapel as well as congregational worship services. Students at CLS are involved in musicals and annually lead our Advent/Christmas service.
Students in grades 4-8 participate in one of several bands: Beginner, Concert, and Wind Ensemble. Our bands provide numerous performances throughout the year at Christ Lutheran, and have on many occasions taken a Spring Tour.
Find more information:
Outreach Ministries
Why Evangelism?
Because people are dying everyday who don't know Jesus Christ as their Lord and Savior, which means they are Lost for Eternity!! Because we are here for a short time and we have a Gift beyond words, we should want to share it without hesitation. We believe it should be on our hearts day and night to share God's infinite Love that is for everyone. Jesus came to be the saving Sacrifice for all people. And because we have the information that will save people and set them Free not only in this life but for Eternity. We should not keep it to ourselves. But be ready to share it with everyone we meet.