Pastor Martin Measel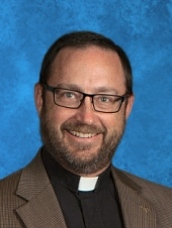 Mr. Neil Webb
Principal
B.S. Concordia University
M.Ed. Concordia University
Mr. Webb grew up in Emmett, Idaho. Since graduating from Concordia University, Nebraska, he has served as teacher, athletic director, and coach in Nevada and Michigan.
Mrs. Amy Cole
Principal's Secretary
Mrs. Cole is a lifetime member of Christ Lutheran Church. She attended Christ Lutheran School from Kindergarten through 8th grade. She has served six years on the Board of Assimilation and for 2 of those years she was the Chairperson and sat on the Parish Planning Council. Mrs. Cole took her current position as Principal's Secretary in May of 2010. She is married to Phil Cole (a teacher at St. Joseph High School) and they have three children. She enjoys reading and spending time with her family.
Mr. Jeff Wallace
7th and 8th Grade Homeroom Teacher
BA from Concordia University Chicago
MA from Western Michigan University
Mr. Wallace teaches multiple subjects in the junior high, and serves as the Athletic Director. Prior to rejoining the CLS faculty in 2019, Mr. Wallace served in Indiana and Illinois since serving CLS from 1999 – 2013. Mr. Wallace is married to Allison, and they are blessed with two children – Emery and Domenick.
Mrs. Susan Jackemeyer
5th & 6th Grade Homeroom
B.A. Concordia University
Mrs. Jackemeyer started teaching at Christ Lutheran School in 2008. She is the 6th grade homeroom teacher, Junior High Language Arts Teacher, the Talent Show Director, the Junior High Choir Director, the Yearbook Advisor and the 6th grade Lutheran Outdoor Education Coordinator. Mrs. Jackemeyer is married to Mike Jackemeyer (lifetime member at Christ) and together they have three children.
Mrs. Laura Hildebrand
3rd & 4th Homeroom Teacher
B.A. Concordia University
M.A. Walden University
Mrs. Laura Hildebrand was raised in Massachusetts and attended college at Concordia University, Ann Arbor, MI. She has been teaching for 1 years. She earned her Master's degree in Reading and Literacy from Walden University. Mrs. Hildebrand joined the staff of Christ in 2013 as the fourth grade teacher. She and her husband, Greg, live in Berrien Springs with their four children and are members of Trinity Lutheran Church. Mrs. Hildebrand's hobbies include family activities, reading, and conquering the laundry.
Mrs. Angela Webb
1st & 2nd Grade Homeroom Teacher
B.S. Concordia University
Mrs. Webb, the daughter of a Lutheran School principal and teacher, grew up in Lutheran education. Upon graduating from Concordia University Nebraska, Mrs. Webb served as teacher and coach at Faith Lutheran Jr./Sr. High, Las Vegas, Nevada. She recently taught 2nd grade at St. Peter's Lutheran in Big Rapids, Michigan. She has four children, Grace, Olivia, Isaiah, and Jacob.
Mrs. Laurie Ulmer
Kindergarten Teacher
B.A. Concordia College
M.A. Marygrove College
Mrs. Ulmer grew up in Stevensville, MI and attended Christ Lutheran School from Kindergarten though 8th grade. Her parents were some of the first members at Christ Lutheran Church. Mrs. Ulmer has taught in grades 1st, 2nd, 3rd, and 4th in various states in her 32 years of teaching. She has also been music director, children's choir director, handbell/chime director, and organist at her different congregations, as well as the director of many musicals. Mrs. Ulmer returned to Christ Lutheran in 1997 and has been here ever since. Mrs. Ulmer is married to Tom and they have one daughter, Savannah. Mrs. Ulmer's hobbies include playing the piano, listening to music, reading, walking and cooking.
Mrs. Sue Veurink-Meyer
Preschool Teacher
B.A Calvin College
M.A. Indiana University
Mrs. Sue Veurink-Meyer is the Preschool Director of Christ Lutheran School. She earned her undergraduate degree from Calvin College in 1980, and went on to obtain her Masters Degree in Elementary and Early Childhood Education from Indiana University in South Bend. Mrs. Meyer has been teaching for most of her adult life with a primary focus in early childhood education, specifically Kindergarten and preschool. In addition to her obligations at Christ Lutheran School, she is an Early Childhood Adjunct Professor at Lake Michigan College teaching four courses every year.
Mrs. Gerken
After School Care
Mr. M. Steffens
Church Organist & Choral Director
Mr. C. Steffens
Director of Bands
Mrs. Kristie Koehn
Librarian
Mrs. Heather Bhatti
Head Cook
Mrs. Naomi Hettig
Art Instructor
Jan Reimann
Art Instructor