Scrip Program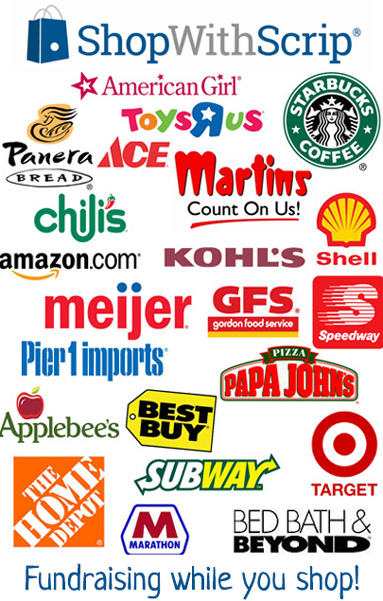 Purchasing Scrip is an easy and effective way to help support Christ Lutheran School, and earn money towards your school expenses for the next school year! The Scrip program allows you to purchase gift cards and certificates at dollar-for-dollar value for everyday expenses like food, clothing, gas and entertainment. In turn, both you and the school earn a percentage of each dollar of Scrip purchased!
How does Scrip work?
Scrip is the only fundraiser that not only raises money for the school, but also puts money back in your pocket. For example, a family buys $200 in Meijer's Scrip for gas and groceries for the week, $20 in Culver's Scrip for lunch out that week, and $25 in Chili's Scrip for a date night for mom and dad. That purchase will earn the family $6.38 towards their book fees for the next school year, and $6.38 for the school (it gets split between church and PTL). If the family makes these purchases at least every other week, they could earn over $150.00 off their book fees. If they purchase more, they earn more. It's so easy!
Where can I use Scrip?
Many places! See the list of SCRIP Participating Retailers.
What are the benefits of using Scrip?
Scrip is easy to purchase, easy to use, and no other fundraiser raises money for the school AND you too. Think of Scrip for your weekly expenses (like groceries, gas, etc.) and when you're making big purchases. If you're planning to buy a new laptop for your son for Christmas, purchasing Scrip ahead of time can earn you and the school a lot of money. If your stove is on its last leg, figure out where you are going to buy your new stove, how much it will cost, and get Scrip first.
Where do I buy Scrip?
We normally sell Scrip after each service on Sundays, and in the school office during the week.
To purchase Scrip:
Fill out the SCRIP Order Form, and drop it off to the CLS school office
Fill out the SCRIP Order Form and email it to the school office at cls@christ-luth.org
Purchase Scrip online with eScrip (see below for details)
Mail your order to CLS:
Christ Lutheran School
Attn: Scrip Program
4333 Cleveland Ave.
Stevensville, Michigan 49127
How do I setup eScrip?
Simply go to shopwithscrip.com, set up your family account using Christ Lutheran School's enrollment code. (Contact Christ Lutheran School for the eScrip enrollment code.)
From there you can sign up for presto pay, which will enable you to order Scripnow and get your Scrip within minutes…great for when it's the weekend and the office is closed, or you want a merchant that we don't keep in stock. (Note: You must use your checking account for an automatic debit withdrawal; you cannot use your credit card with presto pay.)
When you register for presto pay, you will be asked to check your checking account for two small deposits made by Great Lakes Scrip, usually $0.15 amounts.  When you see those deposits, you'll be prompted to log back into your Scrip account, and enter those amounts. You will then be given a 4-digit number, which you must email to the Scrip coordinator Susan Jackemeyer at sjackemeyer@christstevensville.com (indicate "presto pay code" in the email's subject line). The Scrip coordinator will then log onto her coordinator's page and verify your account. Once that's done, your account is active and you can begin your purchasing. (Note: This process can take a few days, so we recommend getting it done as soon as possible if you are planning on shopping online.)
Thank you for your support!