Fine Arts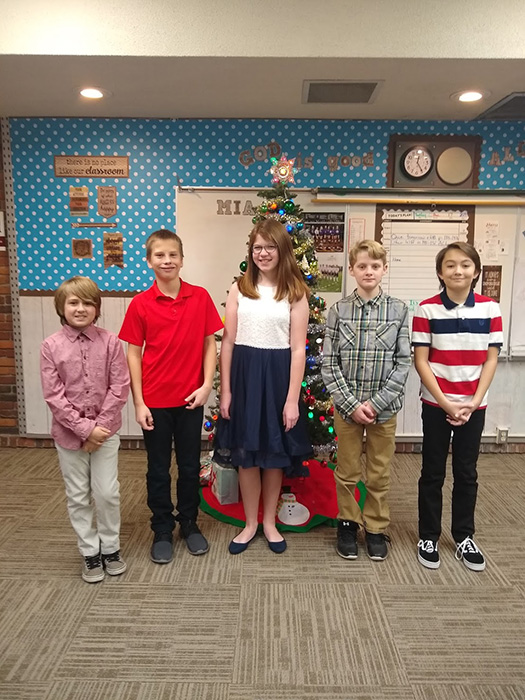 Christ Lutheran School believes that art education is an integral part of the students' academic experience, and is a means of glorifying our God our Creator. Alongside our goal of developing artistic skill in our students, is the goal of helping students understand how they can use those gifts for the greater glory of God. We want students to recognize that their abilities are indeed a gift from God as it says in James 1:17, and that those gifts will be best used when they are offered back to the Lord with gratitude.
The arts have numerous developmental benefits including perceptual, cognitive, affective and psychomotor learning. Therefore, we encourage students to be actively engaged in the arts to nurture their creative abilities and expand their appreciation for drama, music, and the visual arts. Christ Lutheran School seeks to help students understand the importance and influence of artistic expression, and the joy of creative expression.
Music & Drama
Students in grades 4-8 are invited to participate in Music, Choral Singing, Drama and Band. Third Graders begin learning the recorder, and hand chimes are taught in fourth grade.
Vocal Music
Children's Choir
There is a children's choir for students in kindergarten through 4th grade as well as students in 5th through 8th grades.
Jubilate Choir
5th through 8th graders may participate in the Jubilate Choir. This is an extra-curricular choir led by the Church Music Director Mr. Mark Steffens.
Instrumental Music
CLS Band
The CLS Band is divided into two groups – Beginner Band and Concert Band.
Jazz Band
The Jazz Band is made up of all ages, 7th grade through adult.
Brass and Woodwind Ensembles
The Brass and Woodwind Groups play in church, school and around the community at various times during the school year.
Visual Arts
Visual arts communicate about culture, society, and history, and they provide tools for interpreting life's experiences. Students in all grades participate in art classes, and explore a variety of different media.
Our student artwork is proudly displayed on the walls of the school buildings throughout the school year.